Altelix 17x14x6 Polycarbonate + ABS Vented Indoor / Outdoor RF Transparent Enclosure with PVC Non-Metallic Equipment Mounting Plate, 120 VAC Outlets, Power Cord & Cooling Fan with Digital Temperature Controller
Altelix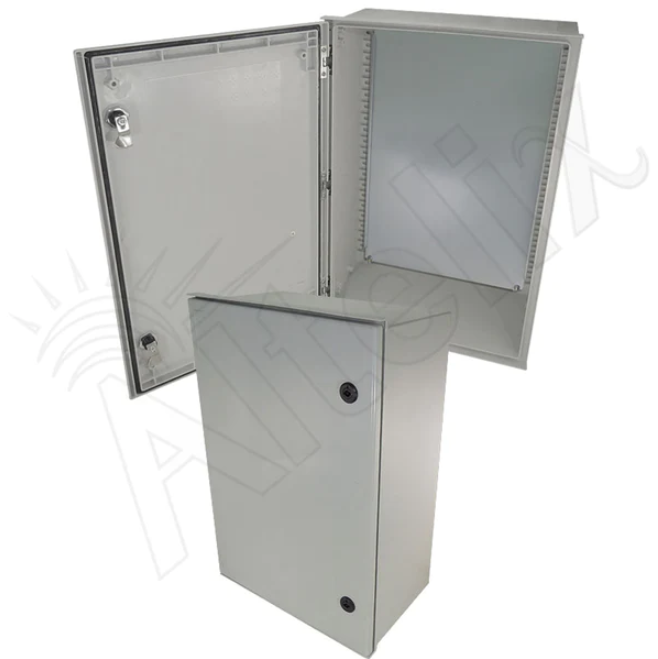 The Altelix NP171406VMFA1C-DF NEMA enclosure is simple to install because no wiring is required. Simply mount the enclosure and plug the pre-wired 5 foot power cord into a nearby outlet. The non-metallic equipment mounting plate features two pre-wired 120VAC power outlets for your equipment.

Get your project up and running quickly and transition to hard-wired later if needed. The power cord can removed and the power receptacle can be hard-wired by a qualified installer.

Polycarbonate + ABS Protection Built to Last
This enclosure is molded out of UV resistant Polycarbonate + ABS, an industrial grade plastic with greater strength and durability than standard ABS. It features a gasketed hinged door with dual latches, a stainless steel security screw and provision for a padlock. Knock-out holes are provided on the top and bottom.

Complete with Cable Grommets and Wire Management Accessories
This enclosure includes an assortment of cable grommets that can be installed in the knock-out holes for a weather resistant seal. The included accessory kit contains wall anchors, zip ties, wire management loops, ground wire, door locking key and more.

Cooling Fan with Programmable Digital Temperature Controller
This enclosure features two 3" vents and a cooling fan which helps maintain lower internal temperatures. The operation of the cooling fan can be controlled by the programmable digital temperature controller accessible inside the enclosure. The fan can be programmed to turn on and off within a set temperature range set by the user. The controller features a color digital readout and can be programmed for Fahrenheit or Celsius. Rain shrouds keep rain water from entering the enclosure while allowing ventilation for installed equipment. The fan is wired internally, leaving the power outlets available for installed equipment.

RF Transparent Design
The NP171406VMFA1C-DF is ideal for WiFi applications. The non-metallic design of both the enclosure and equipment mounting plate will not interfere the radio's operation. In addition, mounting radios to PVC equipment mounting plate can be done simply by using self-tapping screws. The size of this enclosure will fit a wide range of popular wireless points on the market.

Mounting
The enclosure can be wall mounted using the included wall anchors. An optional pole mount kit is also available for installation on poles up to 8 inches in diameter.
---