17x14x6 Vented Polycarbonate + ABS Weatherproof NEMA Enclosure with 120 VAC Outlets, Power Cord & 85°F Turn-On Cooling Fan
Altelix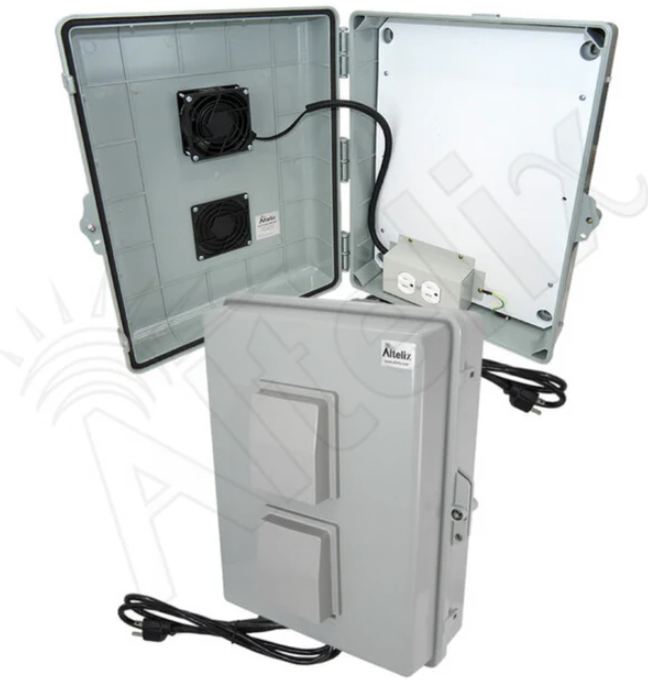 The Altelix NP171406VFA1C-85 Vented Fan Cooled Polycarbonate + ABS NEMA Weatherproof Enclosure with 120VAC Power and Aluminum Equipment Plate is ideal for protecting equipment from harsh environments and tampering. This enclosure features a fully gasketed door to protect from dust and water ingress. The door features reinforced hinges, dual latches and a tamper-proof locking screw with key to secure the enclosure. There is also a provision for padlock use. Internal and external electrical ground points are also provided.

PC+ABS Polycarbonate / ABS Blend for Extreme Durability
These enclosures are molded out of UV resistant PC+ABS, a high tech thermoplastic blend of polycarbonate and ABS which combines the best qualities of both into a single material. PC+ABS enclosures are superior to ABS enclosures because they maintain high toughness, durability and dimensional stability even at extreme cold and hot temperatures.

85°F Turn-On Cooling Fan
The NP171406VFA1C-85 is designed for applications which require the cooling fan to turn on at a lower temperature then our standard fan cooled enclosures. The low noise, high airflow fan turns on when the internal temperature reaches 85°F (30°C) and turns off when it drops to 59°F (15°C). The fan is wired internally so it does not require the use of the AC outlets leaving them available for internal equipment use. The dual 3" vents feature rain shrouds on the front door keep rain water from entering the enclosure, and the internal screens are removable for cleaning. Dual fans are also available by request.

Power
This configuration consists of the PC+ABS NEMA enclosure with hinged lid and a 2.0mm thick aluminum plate with two 120VAC power outlets. A 5 foot pre-wired power cord is included to power the enclosure, so no additional wiring is required. The enclosure can also be hard wired by an electrician or qualified installer. An external ground lug is provided. Two cable grommets on the enclosure allows cables to be connected to internal devices. Knock-outs are provided on the enclosure for additional wiring. Extra cable grommets are included with the accessory kit.

Aluminum Equipment Mounting Plate
The enclosure and plate can be drilled and modified by the installer to suit unique site requirements.

Mounting
The enclosure can be wall mounted using the included wall anchors. An optional pole mount kit (NMK-0001) is also available for installation on poles up to 8 inches in diameter.

Customization
We offer numerous standard models and options including equipment mounting plates, DIN rails, AC or DC power, air vents, cooling fans and heaters and more. We also offer full customization, engineering and on-site CNC machining of enclosures and associated equipment, all with quick turnaround time. Please contact us with your unique requirements.
---