Altelix 24x24x12 Vented Steel Weatherproof NEMA Enclosure with Steel Equipment Mounting Plate
Altelix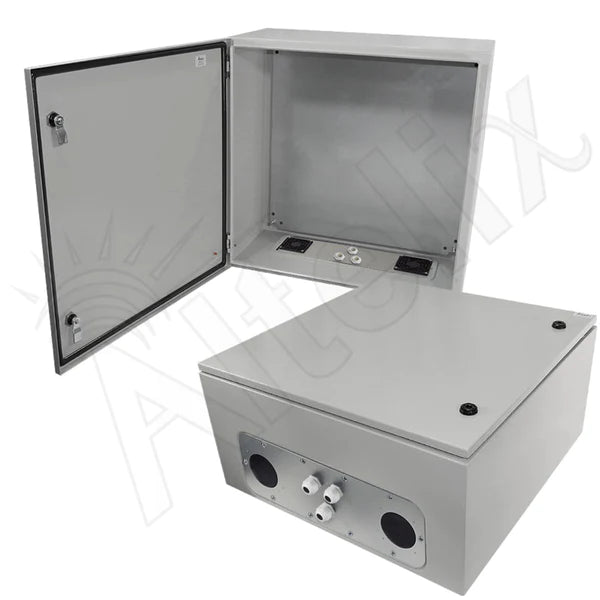 The Altelix NS242412VP Vented Steel Weatherproof NEMA Enclosure with with Galvanized Steel Equipment Plate is ideal for protecting equipment from harsh environments and tampering. Equipment designed for indoor use can now be located outside.

Construction and Features
This rugged enclosure features continuous seam welded 18 Gauge (1.2mm thick) steel construction. The enclosure door is fully gasketed making this enclosure suitable for use indoors or outdoors. The door features reinforced hinges and dual quarter-turn latches to secure the enclosure. Internal grounding studs are provided on both the door enclosure.

Both the enclosure and door are finished in a rugged epoxy polyester textured light gray powder coat finish.

Bonus Aluminum Bottle Opener Key
This enclosure now includes our HN-0008 Aluminum Bottle Opener Key. A $9.99 value, this heavy duty aluminum door locking key easily attaches to most key chains. And it makes a great bottle opener too!

Removable Access Panel with Ventilation
The NS242412VP features a removable access panel that attaches to the bottom of the enclosure. Constructed of rugged aluminum it features two 3" vents to help expel heat from within the enclosure. Weatherproof cable glands are provide on the panel for cable entry into the enclosure.

Galvanized Steel Equipment Plate
This configuration consists of the steel NEMA enclosure with hinged door and a 18 Gauge (1.2mm thick) zinc coated galvanized steel plate for mounting and securing equipment. The enclosure and plate can be drilled and modified by the installer to suit unique site requirements.

Cable Glands
The enclosure features three unique PG-16 cable glands with a closed inner seal. They are installed in the open ports to maintain the NEMA rating of the enclosure when not in use. When required for use, simply punch a hole through the inner membrane, run your cables and tighten for a water-tight seal.

Mounting
Mounting holes are provided inside the enclosure for mounting to a wall or other structure. Two optional flange and pole mounting kits are available, painted steel (model NMKS-600-08) and stainless steel (model NMKX-600-08).

Optional Lockable Latches
For additional protection of internal equipment installed, two lockable latches are available. The HN-0005 is a keyed lock set which includes two keys. The HN-0006 allows the enclosure to be securely locked via use of a padlock (not included). Both the HN-0005 and HN-0006 are direct replacements for the standard quarter-turn latches that come pre-installed in the enclosures.
---